Radon Mitigation Information Near Huxley, Ames, Ogden
How to Mitigate Radon and Reduce Radon Gas Levels in Your Home
Radon is a naturally-occurring gas that can penetrate your home and cause serious healthy risks to the whole family. Testing is the only way to know if your home has dangerous levels of this odorless and invisible gas. If radon is detected in your home, Neighbors Heating, Cooling and Plumbing can install a customized radon mitigation system to reduce the radon levels in your home.
Radon Facts
Naturally produced by uranium decay in soil.
Found in every state.
Homes with crawl spaces are at high risk for radon issues.
As cancer-causing as tobacco smoke & asbestos, causing 15,400-21,800 deaths yearly.
Radon level at which a mitigation system is needed: 4 pCi/L
Low doses of radon over time is worse than periods of high doses.
Radon concentrations are up to ten times higher during the winter.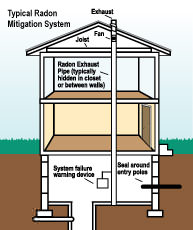 Your Radon Mitigation System Installed
The Neighbors Heating, Cooling and Plumbing system uses sub-slab depressurization to reduce radon levels. Contact us today for a free radon mitigation quote.
We offer radon mitigation and abatement services throughout Central Iowa including Ames, Huxley, Ogden, Webster City, Gilbert, Kelley, Cambridge, Slater, Collins, Roland, Nevada, Maxwell, Story City, Jewell, Colo, Ellsworth, Madrid, and the surround Iowa locations.
How Radon Mitigation Systems Work:
PVC pipe collects soil gases
Radon is piped upwards in the building
A radon depressurization vent forces radon out from your house
Learn about the National Radon Defense network for radon mitigation specialists.
Looking for a price? Get a no cost, no obligation free estimate.